Under Sink Grease Guardian
Centralised Grease Guardian
Restaurant Used Cooking Oil Collection & Recycling Service
Looking for a reliable used cooking oil collection company that you can depend on and will keep you in compliant? You've come to the right place. As a team of grease collection companies we are dedicated in providing all valued customers with an efficient and dependable used cooking grease collection service. Our grease & used cooking oil collection services are tailored to fit every customer's needs to make sure that there are no bottleneck that… can slow down your production. Our service will include delivering a storage container that will best suit your space or the necessary receptacle that can store your kitchen waste oil. After setting up the storage container we will perform a scheduled or on demand pick up service based on the requirements of your food servicing establishment. Whether you are in need of a reliable company to pick up your used cooking oil or looking for a licensed haulers that will keep you in compliance; we are ready to provide you with excellent service.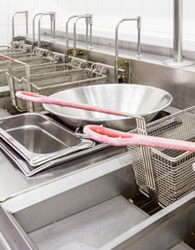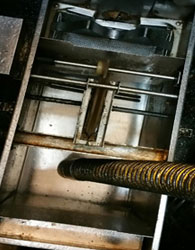 Grease Trap Cleaning Service
A grease trap is a device that is designed to keep grease and solid waste from entering the city sanitation line to reduce or eliminate sewer sanitation overflows (SSO's). Also known as a FOGS (FATS, OILS, GREASE, SOLIDS) gravity device, failing to service this equipment on a timely manner can lead to kitchen and plumbing disasters such as: drain stoppage and overflows that can lead to large fines or store closure. A grease trap is typically found under the sink… or in ground on the kitchen floor with a rectangular lid. Due to its small size ranging for 200 gallons or below, these devices are often serviced every 1-2 months. It is mandatory that these devices are services and cleaned once it reaches 25% FOGS content by a licensed grease hauler in order to be in compliant. Once the device serviced, a manifest report or service receipt should be filed as proof for city personal in case of an audit.
Grease Interceptor Pumping – Cleaning Service
Similar functionality of a grease trap the major difference between the two devices are its size and effectives. With its massive size, grease interceptors (GI) are found outside the premises such as a parking lot or a parking structure covered with a manhole 24 inch manhole lid. Majority of the time these are made of precast or fiberglass. An average interceptor size for restaurants can vary from 750 to 5,000, although shared, food processing companies… and other large commercial kitchen interceptors can go up to 40,000 gallons. Due to its large size, its effectiveness to trap fats, oils grease and solids waste is much more efficient versus an indoor grease trap. For every cleaning, it is imperative that all solids and grease waste are fully pumped free from FOGS waste.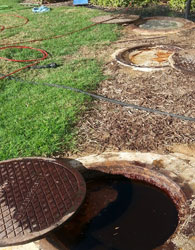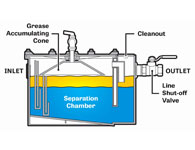 Majority of the cities are now making it mandatory for any food servicing establishments to install and ensure that the grease trap is functioning properly. Every jurisdiction will have different requirement therefore before putting into place, it is suggested to check with the city where the establishment is or will be located in order to determine which device is right for you. It… is imperative that when installing a unit that the plumbing contractor understands all lines that are needed to connect into the trap of the interceptor as well as how to properly vent the system. Without proper experience, this can lead to long term issues such as odor and sanitary plumbing problems.
Hydro Jet Plumbing Service
Hydro jetting or high pressure washing of pipeline walls is the most effective way to clean or to fully remove the stubborn build up residue of grease and debris sticking on the walls of the pipes. Typically, water waste entering into the drain systems contains a mixture of grease and food solids. Overtime mixture of grease and food solid stick on the walls of the pipes eventually reducing the radius which causes it to slow down or clog. Commercial… restaurants go through heavy usage in which grease build up is very common; snaking a line may only be a temporary fix versus hydro jetting. Unlike your normal rooting service or snaking; this procedure uses highly pressurize water of up to 3,500 pounds per square inch (PSI) at 7-10 gallon per minute to ensure that any build up or obstruction is fully cleared away. For an average size restaurant it is highly recommended for the main and/or the branch lines (floor drans, sinks and clean outs) to be hydro jetted every 6-12 month.